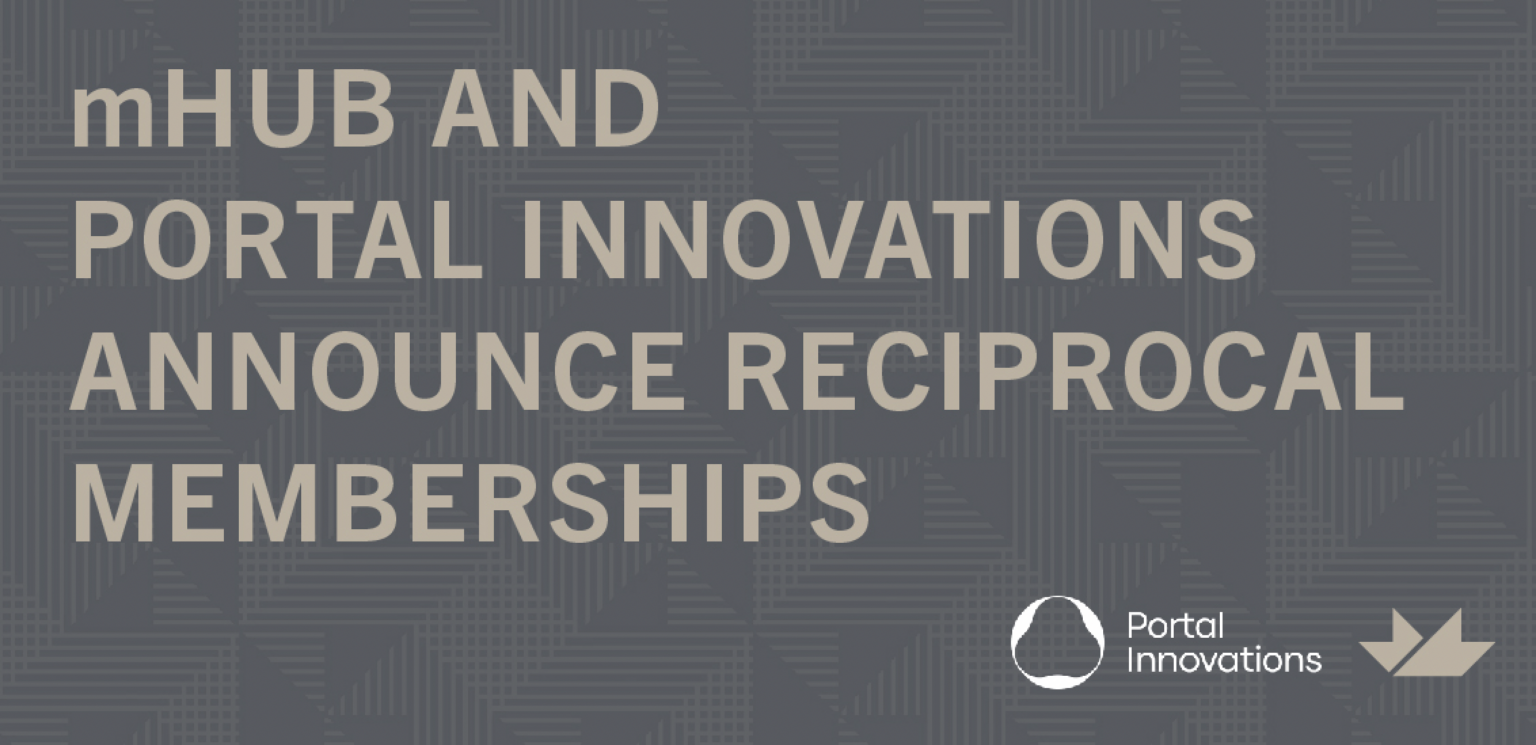 (CHICAGO October 13th, 2022) – mHUB and Portal Innovations are joining forces to increase the value of their mutual resources to Chicago's startup ecosystem. Members of each entrepreneurial community will now have the ability to purchase discounted memberships at the other partnering organization to gain access to critical hardtech prototyping labs, wet lab space, and other world-class life science resources, rarely found together and in downtown Chicago.
mHUB and Portal are both deeply rooted in bolstering and activating the region's robust infrastructure of research, talent, and manufacturing to advance early-stage innovation. Collaborations such as this partnership build more stickiness across resources and have positioned Chicago as a global hub for launching and growing startups.
Portal currently has two locations in the Fulton Market district of Chicago, where it invests seed capital, offers access to fully equipped wet and dry lab space, and provides management expertise to leading scientific and entrepreneurial founders. mHUB is home to 11 labs for prototyping and provides industry access, mentorship, education, and programs to accelerate early-stage hardtech towards commercialization.
"Portal not only invests capital in these innovative companies, but we also provide access to turnkey laboratories and dedicate time and resources to help create a community centered around life sciences," said Patrick Flavin, President of Portal Innovations. "When trying to create a new startup environment, it's critical to foster relationships with companies that have similar interests, which is why we're excited to partner with mHUB to help pool our resources in order to make Chicago a stronger innovation hub."
"Removing barriers and working across organizations is how Chicago has built an entire ecosystem around commercializing early-stage technology," said Haven Allen, Co-Founder and CEO, mHUB. "This atmosphere we've built locally has grown into a regional one, creating a map of resources across the Midwest. mHUB is thrilled to add Portal to its growing list of collaborators and fill a need for our MedTech and life sciences startups."
Specific partnership benefits for Portal members includes, but are not limited to, discounted membership fees to mHUB for access to prototyping labs with over $6M of equipment, software design licenses (Fusion360, Altium, SolidWorks, Adobe Creative Suite, etc.), loading dock access, and shared workspaces with business class WiFi, printing, and front desk service. Additionally, mHUB members will have a discount on Portal membership, including access to $5M in common lab equipment, full-service EHS and biohazard containers and waste removal, and concierge-level service for all office needs.
For further questions on membership, please contact Anna Tomaszewski (anna.tomaszewski@portalinnovations.com) with Portal Innovations or mHUB at membership@mhubchicago.com.
About mHUB
mHUB is a leading independent hardtech and manufacturing innovation center that exists to convene the entrepreneurial ecosystem around physical product innovation to ensure that the manufacturing industry continues to accelerate, grow and thrive. The mHUB community includes over 428 active and alumni startups and small businesses supported by a deep talent pool of product designers and developers, entrepreneurs, engineers and manufacturers, corporate leaders, industry experts, mentors and investors. mHUB provides a hyper-resourced environment to entrepreneurs with the goal of commercializing new hardtech innovation that will lead to new businesses, intellectual property, investment, revenue and job creation. Since launching in 2017, the mHUB community has generated more than $721M in revenue, launched more than 1,398 products, hired more than 3,987 employees, and raised over $1B in capital.
About Portal Innovations
Portal Innovations is a premier venture development engine that bridges scientific ideation in life sciences, medtech, and bioinformatics through commercial proof of concept by delivering crafted capital, including seed funding, specialized equipment, lab space, and management expertise to high-potential early-stage companies. For more information, please visit www.portalinnovations.com.